Rotary responds to Ukraine crisis
Your donations at work 
All donations to our Disaster Response Fund from 3 March to 30 April 2022 have been prioritized for use providing humanitarian aid to regions that are supporting Ukrainian refugees or other victims of the war.
Thanks to the generosity of donors around the world, we raised more than $15 million in contributions that are already helping provide people with essential items such as water, food, shelter, medicine, and clothing.
So far, 90 disaster response grants totaling $2.4 million have been awarded to support people affected by the war. The Rotary Foundation will continue to use the donations for humanitarian aid in and around Ukraine, and districts can apply for these grants until 30 June 2022.
Donations made to the Disaster Response Fund after 30 April will be available to all communities around the world that need assistance recovering from disasters.
Apply for a disaster response grant
Find out how Rotary districts can apply for a grant from the Disaster Response Fund.
These expedited grants can be used to provide relief such as water, food, shelter, medicine, and clothing to refugees or other people affected by the crisis. Districts should work closely with local officials and groups to ensure that the funding will meet a specific community need.
How we are taking action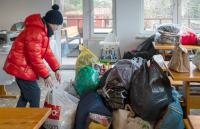 Contact information
Many clubs and districts have organized local humanitarian response initiatives in Ukraine and the surrounding region. Find out how to engage with Rotary clubs and districts, find contacts for hosting refugees, and more local efforts. You can directly support these local projects.
Download a list of relief efforts and relevant Rotary contact information (PDF)
District 2232 (Ukraine) formed a committee to help victims of the war in Ukraine. They identified urgent medical supplies to help injured civilians.